Facebook Postcard Swap, Sender: Marichie Postcrossing
Sent: 16 October 2012, Sent from Las Palmas, Spain
Received 31 October 2012, Traveled 13,348.5 km in 15 days
This door is missing a handle. I have two pieces of evidence to think that it used to have a handle: (1) the blue paint on the door, and (2) the pink flowering plant in front of the door.
Now, head over to
Smiling Sally
's page for pretty blues on a Monday.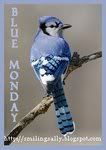 Have a productive week, 'ya all!
~maria